YULE TIDINGS
Written on 22/12/07
The sun is turning, and as the shadows begin to fade we trust you all have at long last received your packages. As most of you know we did not receive the LPs before early November. We would like to apologise once again for the delay and thank you for your patience. Only a few of you have been on our backs about it, and while we understand, we'd like to emphasise that we too have lost a great deal of time and money on this shit. It happens. And life goes on.

As you all know, by now we are filthy rich and expanding the business. Just look at this stunning new artifact: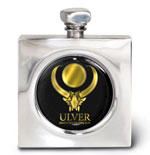 This beauty is, believe it or not, in stock and will dispatch immediately. Please note that it is from the golden section — NOK 500 / EUR 62 / USD 89 — and only for the ULVER dipsomaniac. A total of 200 have been made; when they are gone, they are gone. Order here.

It is likely to become the most useful band merchandise we will ever make, tragic as we are. Salut.

On the exclusive note, we should also mention that our US partner The End Records is now pushing a ltd. ed. of the Shadows vinyl. One hundred copies in a wooden box with a varnish and a branding, in tandem with a t-shirt and postcards designed by our brother-in-the-hood Stephen O'Malley. Here.

The year of the Rat is on.
CUSTOMER INFO
Written on 8/8/07
Regarding ULVER preorders and a limited edition etc.: Yes, we will have a special package for you, and we will take preorders when we are ready. More information will follow in due time. Please hold your horses until then.

We have regrettably lost 14 days worth of general inquiries to the courier due to a computer crash. Those of you who wished to order via paypal etc., please rewrite us at courier@jester-records.com.

Thank you for your patience.
SAD NEWS
Written on 13/7/07
Many of you have been waiting for sound, and we are sorry for the silence. We needed to be alone, without the hustle and bustle of the living. We are uncomfortable with the world, the industry and our place. We have been working, sluggishly, well aware we could end up with nothing. Nonetheless we believe we have succeeded in giving our fears some kind of form. SHADOWS OF THE SUN, our 7th full-length album, is finished and will be released October 1st. We feel it is our most personal record to date. Low-key, dark, and tragic. As we are.

ULVER, Oslo, July 13 2007.
SETTING UP SHOP
Written on 30/4/07
We hereby open our new, mucho improved shop, with MP3 downloads, secure payment solutions et al. Max them cards out folks.
SÖTA BROR
Written on 27/3/07
SINGLE UNIT will perform at Inkonst, Malmö, Sweden April 3rd.

Are will also be playing with KILLL at the Skanu Mesz Festival, Riga, Latvia, May 11th. Other artists: THE BOOKS, IKUE MORI & ZEENA PARKINS, MOUSE ON MARS and more.
WHEN IS NOW
Written on 26/2/07
Place your orders.





Lars Pedersen and Haakon Ellingsen--contributor to the song Butterflies and Lars' companion in LAST JAMES--will be playing an "unplugged" show at Café Mono, March 1st, to celebrate the release. Be there if you can.
TURN ON, TUNE IN, DROP OUT
Written on 19/1/07
Check out WHEN's MySpace for an exclusive sneak peek of Lars' new psychedelic masterpiece, Trippy happy.