THE PERFECT CHRISTMAS GIFT?
Written on 19/12/05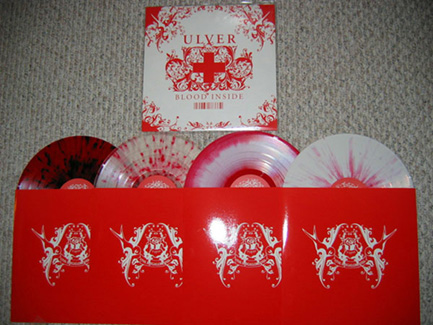 NY Timeout Magazine Best of 2005

6. ULVER Blood Inside.

"Norway's ULVER delivered the most engrossing art-metal epic with this explosive blend of metal, electronica, vintage prog. and Pet Sounds."

"The most compellingly eerie record of 2005." - Lollipop Magazine

Go to shop.
1349 RYKKINN ARTIST BÅRD TORGERSEN RELEASES HIS FIRST NOVEL
Written on 21/9/05
Alt skal vekk (Everything must go) is the title of Bård Torgersen's first book to be released by Oktober, one of the most renowned publishing houses in Norway, late September. It's the story of a young man's apocalyptic escape from Norway - and himself. The book is in many ways the third part of a trilogy beginning with the album Brown ring of fury released by Jester Records in 2003. The second part is the documentary Las Palmas from 2004. All three works have the place Las Palmas in common and they paint a picture of a world where communication is impossible, where love is no more than a word, where everyone is destined to solitude. Alt skal vekk showcases the same dark, desperate energy that could be heard in the rhythmic structure of Brown ring of fury and that could bee seen in the photography and editing of Las Palmas.

Torgersen will be reading from the book at Tronsmo bokhandel, Kristian Augustsgt. 19, Oslo, October 13. 17:30. Introduction and interview by the author Nikolaj Frobenius.

Las Palmas and Alt skal vekk are available from the shop.
KATZENJAMMER SLUR
Written on 23/8/05
Kåre and boys/girls had a blast last night. Soap bubbles, cheese, crack ... erm ers and vodka. So today, as the hammers pound our heads and we sluggishly open our bloodshot eyes and gape at the morning newspapers; Lo and Behold!

"A pure psychedelic joyride!" - Aftenposten

"Kåre João has a massive sound, fleshed out with organ, sax and harmonica, that can move air in the darkest speakeasy of your mind." - Dagbladet

"Spaceman Jason Pierce must be smiling from the intensive/critical care ward. Drug-rock par excellence." - Dagsavisen
LAST DROPS OF BLOOD
Written on 18/8/05
Bad tidings for eBay:

A distributor slow on the dough made VME hand over the last red velvets kept on hand. Signed and ready. Same rules: Order for 500 NOK/65 €/75 $ and get yer signed copy. We have exactly 75 of these beauties left. This is your last chance. So be snappy.

We have also extended our clothing line: Blood inside sweatshirts with hood, zip and side-pockets.
ATTENTION CITIZENS OF NORWAY!
Written on 16/8/05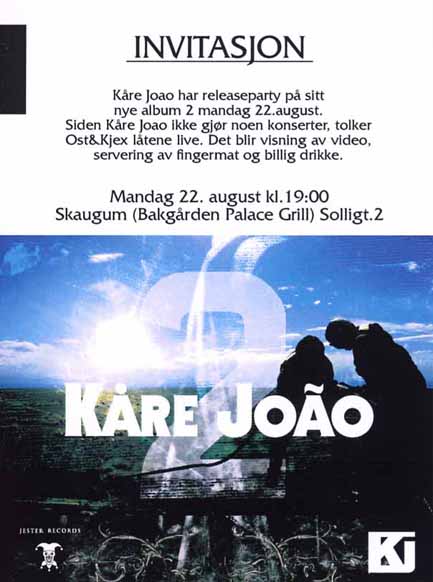 KÅRE VIDEO AUGUST 2005
Written on 12/8/05
The video to KÅRE JOÃO's TV dreamy is available for download here.

Also, they seem to be into the new ULVER in Las Vegas. Elvis must have left the building or something.
KÅRE COMEBACK AUGUST 2005
Written on 1/8/05
Our claim to fame, KÅRE JOÃO, and boys have actually completed the long awaited follow-up to Sideman. A psychedelic monster. Kåre's daredevil grooves, smooth melodies, drone sounds, killer riffs and liberating chorus lines. Summer and sadness. THE DOORS, STOOGES, KRAFTWERK and CAN all in one. For details click this.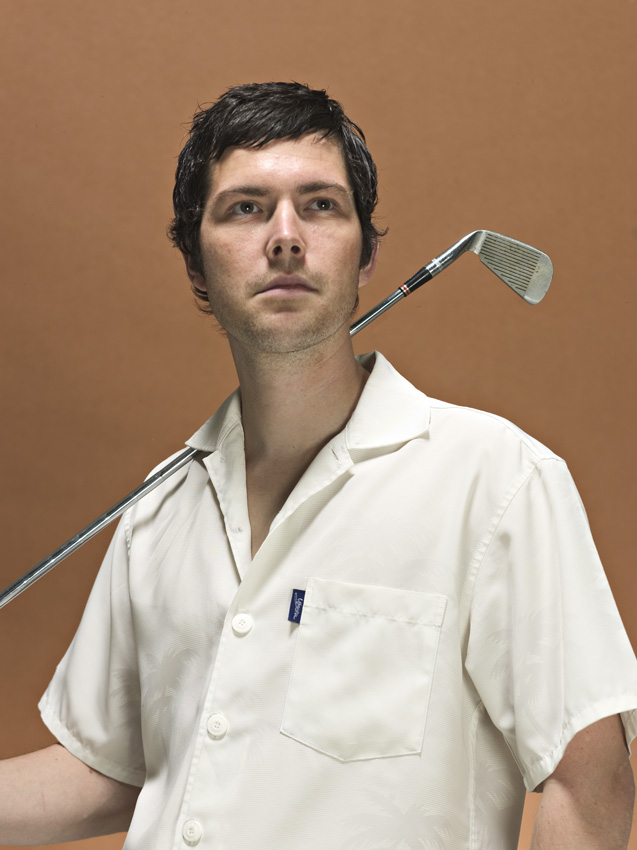 RED VELVET TOTALLY SOLD OUT
Written on 6/6/05
The autographed copies are all gone. Only the regular edition of Blood inside remains.
RED VELVET SOLD OUT
Written on 1/6/05
The red velvet box edition of Blood Inside is sold out, except for a few autographed copies which are available to those who order for 500 NOK/60 EUR/75 USD or more. They will disappear quickly too, so move fast.
BLOOD RELEASED
Written on 30/5/05
Blood Inside is finally available. The limited red velvet box edition is 120 NOK/14 EUR/18 USD. We also have a few autographed velvet reds for those who order for 500 NOK/60 EUR/75 USD or more. The regular jewel case cd is 100 NOK/12 EUR/15 USD.
UPLAND LIVE
Written on 26/4/05
UPLAND will play live in Bergen on May 11th. Place: Landmark, Bergen Kunsthall. Doors open at 21:00. Entrance: 30 NOK.
T-SHIRTS
Written on 22/4/05
Shirts are here. Proceed to the shop for details.
CANCELLATION
Written on 14/4/05
Due to pressure from several distributors, we are forced to cancel yesterday's statement. Blood inside will not be available from the Jester shop until June 6th. The offer of autographed velvet editions to those who order items for 500 NOK or more still holds, but it will not be effectuated before 6/6.

Well aware that the album will be all over the web within a couple of days anyway, we think the thing is quite ridiculous.

That's muzak bizz for ya kids!

On a lighter note: Carl Michael's condition is improving a bit. They've started lessening his medicinal dosages. He's had his eyes open a few times without necessarily apprehending much of what has and/or is happening. The humble start of a long and strenuous recovery process. We will be there to support along the way buddy.
ULVER NEWS
Written on 13/4/05
Blood inside is in stock.

This is the only place you can get yer dirty fingers on it before June 6th, the official release date set by our distributor. The ltd. ed. red velvet box is 120 NOK/14 Euros/18 $, whereas the regular jewel case is 100 NOK/12 Euros/15 $. And Sir Lancelot has a few autographed velvet reds for those of you who order items for 500 NOK/60 Euros/75 $ or more.

Also, shirts are on their way from Mexico. The long delayed Girls of Jester Records series as well as fresh Blood inside shirts. Should be here within a few days. We'll let you know.

Proceed to the Jester shop.
THE DREAMER IS STILL ASLEEP
Written on 5/4/05
Carl Michael is still held in a medically induced coma. He has made it through two major surgeries lasting close to 20 hours each. Doctors are still not certain whether he will be paralyzed from the waist down or not. They were at one point threatening to take his legs, but upon closer inspection decided not to. They will try and wake him up sometime this week. We do not know much of what will be the outcome before our friend slowly regains his consciousness, but we will let you know as this terrible story unravels.

Anyone who would like to express their condolences, or simply wish him well, can do so by e-mailing Mat (kvohst@hotmail.com) who will pass it on to Carl Michael and his family when circumstances and time is appropriate.

An interview with Anthony Curtis is up at INDIE WORKSHOP.
NEWS LATE MARCH
Written on 29/3/05
Carl Michael (VIRUS, AURA NOIR, DHG etc.) is in the hospital, after a bad, bad fall in Oslo a few days ago. He is alive, but does not know. We are afraid for you, dear friend.

What when you wake?

Irrelevant now: ULVER's Blood inside is nigh. See the ULVER webpage for words.
UPLAND/ULVER VIDEO MARCH 2005
Written on 27/3/05
MATHIAS KAKOSCHKE has made a video to UPLAND's remix of ULVER's Lost in moments. A nicely synced, abstract, pencilsketched cut-up affair. Download it here.
BEARS HAVE EARS FEBRUARY 2005
Written on 21/2/05
Something from someone who knows to appreciate our efforts.
BLOOD DRIPPINGS JANUARY 2005
Written on 28/1/05
Tracklisting and mp3s from ULVER's much anticipated Blood inside is here. The cover image is tentative. Megalomaniac announcements will be made
soon.
GALAKTICK NEWS JANUARY 2005
Written on 20/1/05
ORIGAMI GALAKTIKA appears on the Slovakian compilation cd Ambsine vol.1 with the track Wintergarden. Order from info@ambsine.sk.